Improve Your Conversions: Split-Testing Simplified


For all of you who love science, experimenting and problem-solving, you are really going to love today's post. We are going to chat all about the "science" behind increasing your email marketing conversion rates through split testing (AKA A/B Testing). 
Email marketing truly is a numbers game. The higher your conversion rates, the larger your list will be. The larger your list, the more sales you will make. 
But there's more to improving conversions and growing your list than just creating better offers and attracting more traffic. Each piece of your email list building and marketing effort has a job to do, and it's up to you to make sure it's performing as well as possible. 
That's where split-testing will come in handy. At its core, split testing is nothing more than taking 2 digital products, changing one element, then sending that product to two groups of people and seeing which one people respond to better.
And that's the basis of split testing: tracking, tweaking, and testing with the goal of continuous improvement and a better understanding of what your audience responds to…and what they don't.For an in-depth description of split testing, feel free to check out this article by my people over at Mailchimp.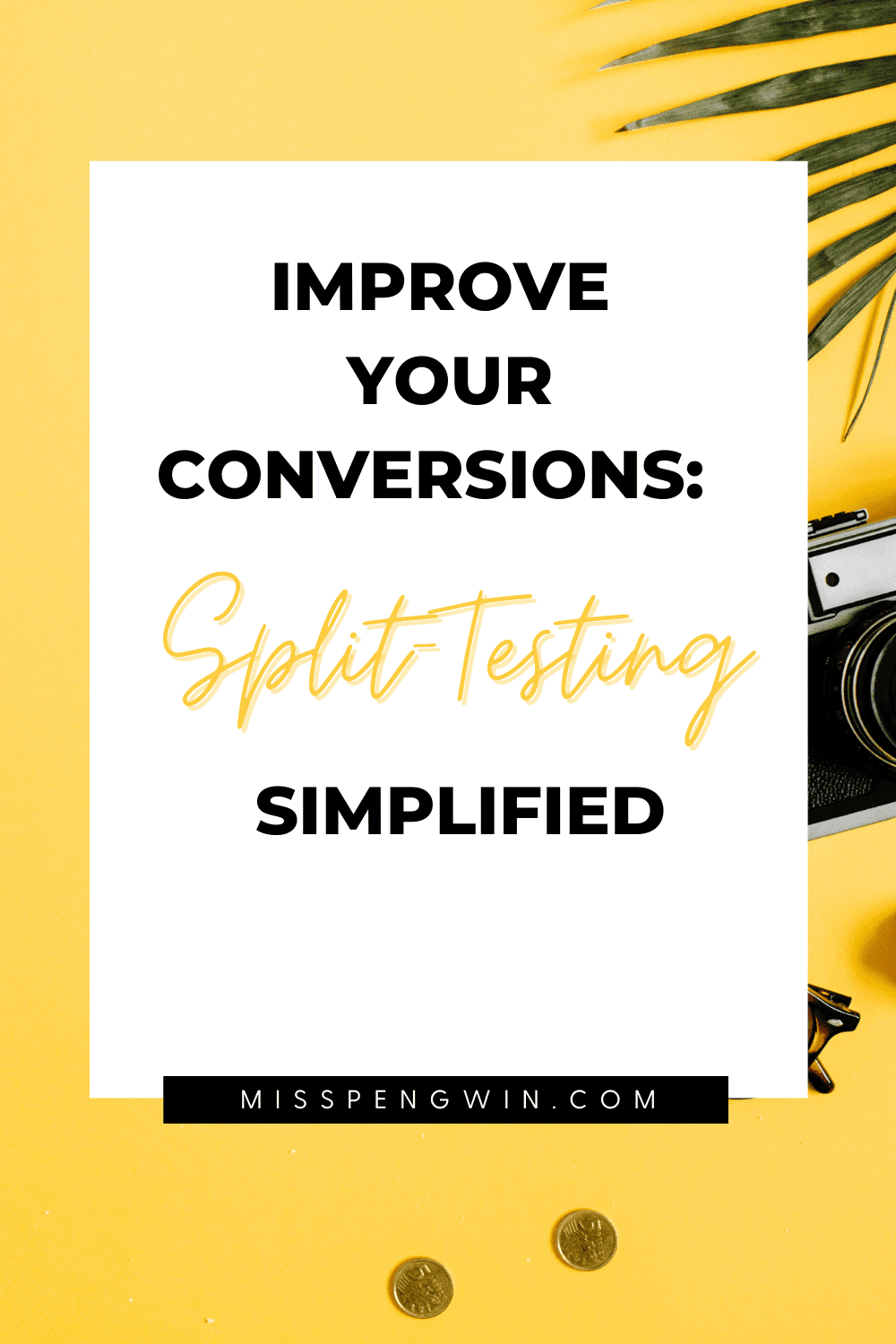 Have a new product to offer and want to see what captures your audience attention (and clicks)? Here are two split testing suggestions to help you get started. 
Split Testing Options 
A better question might be, "What can't you split-test?" Because frankly, you can test just about everything, including:
Subject lines

Calls to action 

Button colors

Fonts and text colors

Opt-in incentives

Landing page layout
But here's the trick to a good split-test: Only test one single change at a time. 
You might be tempted to rewrite your headline and your call to action and your button text, but don't. While it may seem more efficient, the problem with this approach is that you'll have no way of knowing which change had an effect on your conversions. 
Did they go up because of the call to action? Or drop because of the subject line? Who knows? 
Instead, make systematic changes to your landing pages and carefully track results. That's the only way to know for sure what's working—and what's not. Considering changing the headline OR the lay-out (keeping all other elements the same).

But, if you hear me say anything, hare me say this – ONLY CHANGE ONE THING AT A TIME. 
Most landing page tools such as LeadPages and ClickFunnels have built in tools for split-testing. If you're not using these tools, you can also set up split tests right inside your Mailchimp account.  
Testing Open Rates
Your email list manager should provide a way to split-test your emails as well. Open rates are critical when it comes to email marketing and list engagement. After all, if your audience isn't opening your mail, they're not reading it either! 
You can easily improve your open rates by split-testing subject lines to determine the format and style most likely to get your readers' attention. 
To improve your open rates, test your email's subject line. Set up two identical emails with the same content but change the subject line to see which gets the best response from your list. You'll be able to use this information in later campaigns to improve open rates on all your emails.

You don't need to do this for every email you send, but consider doing a test email before your next launch to get an idea of what is resonating with your people.


When Should Split Testing Start
Just like list-building, it's never too early to begin split-testing. There's no magical number of opt-ins you must have to get started. There's no amount of traffic that's too small. So don't wait—start split testing your opt-in forms and emails now, so you can enjoy the best conversion rates possible. 
Feel free to send your hypothesis about your list, then let me know how your results turned out. Need some additional help setting up a split test, reach out. Data is my jam and I would love to help you see better results for your time and effort.