True confession time. I am an Email Marketer.
I love setting up funnels and crafting incredible emails for my clients that nurture and convert. However, I've spent so much time building funnels, creating landing pages, and sending emails for my clients that I'd neglected my own list for too long.

Six months ago I decided it was time to invest in my own list as much as I invested in my clients' lists. I decided to grow my email list with a lofty goal of adding 1,000 new subscribers within 6 months through organic traffic. Yet, there was one little (or big) hiccup to this plan.
 I don't like to write.


There, I said. I don't like to write. But, I love email marketing. On the surface that seems like a conflict that is pretty difficult to resolve. Taking a note from Marcus Aurelius, what gets in the way, becomes the way.

One option I could have chosen was to hire a copywriter. In full disclosure, I do have someone on my team who provides a bit of copy and editing support. However, my budget for building my list didn't match the investment of bringing on a copywriter to do it all.

So, I decided to use PLR (private label rights) content also known as white label content. Essentially, when you purchase PLR (which is very affordable), you buy the rights to content that has already been written by someone else that they are selling. Once you purchase the content, it is completely customizable and you can transform it to incorporate your own branding and voice. It becomes 100% your own content.
I used PLR to make freebie offers, also known as call to attention (CTA), to attract my audience to me.
I used PLR to make blog articles which are posted once every week.
I started consistently sending weekly emails which also included, you guessed it, PLR content, to all my brand new subscribers on my email list.
And do you know what happened? In only 6 months I met my goal and grew an email list from no contacts to 1000!

Once I had a list of engaged subscribers, I began to see that PLR content wasn't just good for my business. It could be the key to other business owners, including my own clients', to finally start being consistent in content creation so they could build their list, optimizing their SEO and, ultimately, increase their revenue by getting their products in front of more people more consistently.

I was sold on PLR. The obvious next step for me was to become an affiliate (which I did) for the sites where I purchased most of my content. Then, I started dropping affiliate links into my weekly emails and occasionally on my social sites. Over these 6 months I made $1,000 just from adding some links in my weekly blog emails (not to mention I grew my list of clients as well).
By simply using PLR content in my own business I was able to add a passive revenue stream by doing what I was already doing each week – sending emails! This was a win-win-win, my content creation became consistent, my list grew, AND I increased my revenue! 

For those of you who take in information best visually, let me break it down a bit more – I love a good diagram!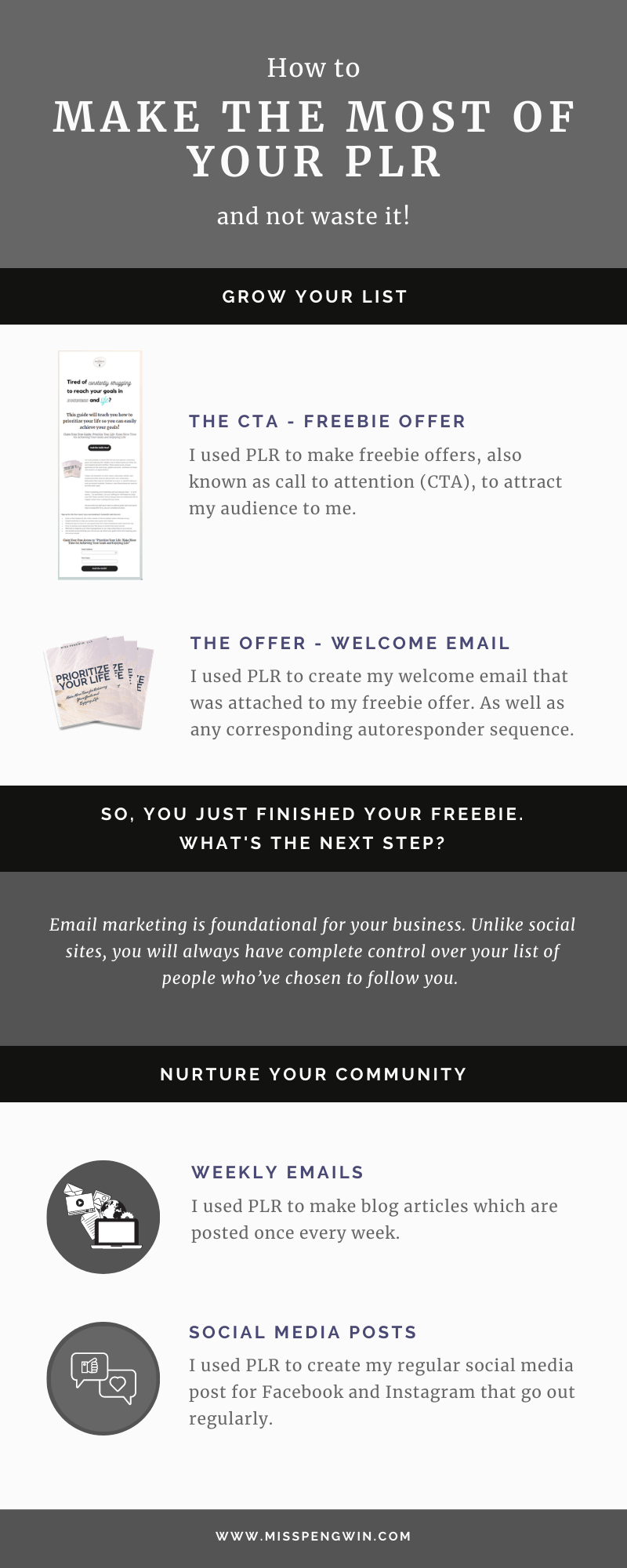 Email marketing is foundational for your business. Unlike social sites, you will always have complete control over your list of people who've chosen to follow you. There are no algorithms to decide for you who sees your emails and who doesn't. But, the key to growing a list of engaged subscribers is in providing consistent, valuable content. PLR makes that so easy and the cost of picking up a few PLR packs is a no-brainer.

In fact, you can even grab these FREE packs to give it a try and see what you think:
FREE 7 Day Make Over Your Morning Mini-Challenge PLR
FREE Decadent Desserts – Taste Test


To recap it all for you, here's how I grew my list and created a new revenue stream in only 6 short months:

1. Purchased PLR.
2. Use PLR to create my freebies, opt-ins, blog posts and weekly emails.
3. Starting consistently posting to my blog and sending emails every week.
4. Became a PLR affiliate.
5. Starting dropping my affiliate links in my emails.
6. Grew my list to 1,000 subscribers.
7. Made $1,000 in passive revenue.


While this was a bit of an experiment for me initially, PLR is not going anywhere in my business. Plus, my list is still growing as is my passive income.

If you've used PLR before, raise a hand in the comments below. Have questions? I'd love to help you get started. You can respond in the comments, or you can find me hanging out on Facebook, Instagram and Pinterest as @misspenwinllc.
I often recommend products and services that I use or that have been recommended to me by people we trust. In many cases these recommendations are accompanied by an affiliate link, which provides me with a referral commission should you click through and make a purchase.